For those who wish to pre-order and book their copies of the game right away, here's the best place for that:
Pre-order Pokemon Heart Gold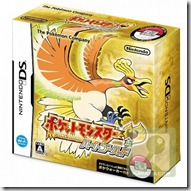 Pre-order Pokemon Soul Silver
Order it for the sake of that awesome
Pedometer 'Poke Walker'
freebie!
Play-Asia is one of the best online stores when it comes to ordering games, plushies, etc. And pre-ordering also gets you the game shipped right away after the launch date. This is from my personal experience of pre-ordering Pokemon Platinum 2 months before it released, from Play-Asia.
(Please note you'll also be helping out DeSiPokemon by using the above links to order, since it pays us a small part of commission that helps pay the hosting fees

)
Just a random video of the game trailer and Pedometer feature to inspire your purchase